Divider Curtains
---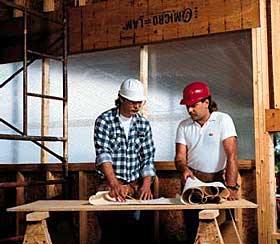 Contain it, cure it, protect it, enclose it: no one has more uses of high quality tarps and coverings than the contractor. No one can meet those specific needs better than THOR.
Industrial curtains, scaffolding tarps and building enclosures made from reinforced, lightweight, clear DuraShield(TM) 6000 keep wind and rain out of work spaces while letting necessary light through. Or use PlastiShield(TM) unsupported sheeting as simple dust partitions or lay-down tarps when you must maintain a clean environment.
THOR's debris tarps help in the clean up, whether from roof tear-offs or during landscaping jobs. Reinforced with 5000# tensile strength seat belt webbing, these debris tarps are made from a special perforated material that will let water drain through.
Protect lumber, insulation or other construction materials on the job site from vandals and the elements with five sided pallet covers made from tough DS9000. Choose black/white reversible material when you need to control heat and condensation build up, or clear when you need visibility.
If you are in the concrete business, you need our InsulShield(TM) brand insulated blankets and covers, closed cell foam sandwiched between two layers of DuraShield material with your choice of thicknesses and R-values.
From roll stock goods to custom covers, select the THOR tarp that matches your application. Let the right tarp help you work safer, longer, cleaner . . . and save you money!
USPS Security Curtain assembly and installation instructions
Track Components:
• Track Component Information
• Track Component Order Form
---
---
THOR Tarps used to fabricate an Elk Trap in Wisconsin